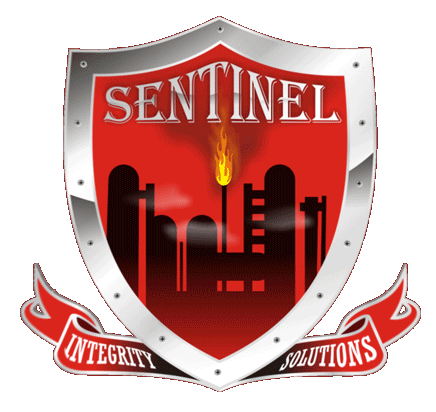 DELIVERING SAFE, COST EFFECTIVE, TURN-KEY INSPECTION SOLUTIONS
Have questions about hiring inspectors for your turnaround? Here are questions commonly asked about Sentinel inspectors for turnarounds and projects.
​
How qualified are your inspectors and technicians?
We have inspectors and technicians that have anywhere from 30 years' experience to someone who may have just recently received their certifications.

We believe in matching the inspector or technician's experience and skill sets to the job they are being asked to perform. Assigning mentors to our apprentice inspectors and technicians ensures consistent success.
​
What certifications do turnaround inspectors and technicians need?
The main certifications necessary to become a turnaround inspector are API 510 (Pressure Vessel), API 570 (Piping) and API 936 (Refractory) certifications. For other advanced inspection techniques such as UT (Ultrasonic Testing) and ECT (Eddy Current Testing) you will need a minimum of a Level II certification. A CWI (Certified Welding Inspector) certification is also a plus for an inspector to have because of the large amounts of welding, fabrication and repairs that take place during a turnaround.

There are many experienced inspection professionals out there who have more than one if not all these certifications.
​
What does Sentinel do to ensure your turnaround inspectors are prepared for any situation?
Sentinel is unique in the industry in that we maintain a full-time turnaround team consisting of API, ASNT and AWS certified inspectors and technicians capable of servicing our clients' project needs. Our team executes projects according to our strict procedures and guidelines.
​
What is Sentinel's Turnaround Protocol?
Turnaround Management & Execution

Sentinel has developed a systemized and standardized approach to turnaround management and execution. This system includes a formal turnaround protocol that provides our inspection team with guidance and an outline for the proper execution of turnaround activities from an inspection perspective. The protocol outlines safety expectations, safety oriented daily duties, professionalism, field execution, reporting expectations, recommendation expectations, mentorship, and responsibilities. The protocol categorizes each of these sections by job classification/discipline to ensure each inspection team member has clear guidance and an understanding of expectations.
​
To compliment the turnaround execution protocol, we have developed and implemented a "Turnaround Tool Kit". This tool kit provides standardized templates and documentation to each team member, ensuring continuity within our team and deliverables.
​
Our management team along with our contract team members foster a safe, team-oriented atmosphere for each of our projects.
​
What role does mentorship play at Sentinel?
At Sentinel, our goal is to mentor and lead by example. This attitude helps our future workforce and keeps our company successful for years to come. Bad habits are easy to come by, so we give our inspectors structure, reinforce positive attitudes, encourage hard work, and expect quality and integrity without compromise!

We pair our less experienced inspectors up with more experienced inspectors in the field so that they get technical support during the field inspection process. We also support them during the documentation process. This way, a less experienced inspectors not only learns correctly, but also learns how to quantify, document and provide a path forward with the appropriate inspection results.

We believe that properly training young people for the future is the only way to sustain the continuity of our staff as our clients' needs and project demands evolve.
​
How important is teamwork to Sentinel?
On our projects we work as a team, not as individuals. In order for our team to be successful, we make everyone work towards the same goal, to give our clients cost-effective, quality service in a safe manner.
​
What is your main challenge when recruiting inspectors?
Lead time is the biggest factor in supplying good people for projects. Some owner operators wait until the last minute to ask for help. Advance notice is critical when trying to schedule qualified, experienced personal. The amount of work going on in the industry now is enormous and has caused a shortage of qualified inspection professionals. So, the earlier you ask for help the easier it is the find experienced and qualified people.