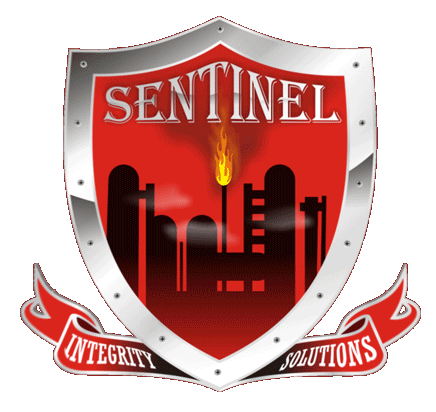 DELIVERING SAFE, COST EFFECTIVE, TURN-KEY INSPECTION SOLUTIONS
Rope Access Inspection and Maintenance
Sentinels' Rope Access Team is able to perform Advanced NDE, Conventional NDE and maintenance activities safely while being deployed from a rope. This reduces costs and saves time for our clients.
​
Rope access procedures are comprised of several techniques that utilize specialized hardware. This allows Sentinel to rapidly deploy trained professionals to your facility and support your remote access needs.
​
WHY UTILIZE ROPE ACCESS?
Modern rope access equipment, techniques, and training can be combined to produce an exceptionally safe, versatile, efficient, and cost-effective solution for remote access challenges.
​
Rope access is safe. Our rope-access technicians are certified and uphold an enviable safety record. The often rapid and efficient execution of tasks via rope access reduces at risk man hours for workers.

Rope access is economical. Fewer personnel, faster completion, less rental equipment, eliminated need for complicated scaffolding systems and minimal downtime compliment cost reduction

Rope access is versatile. Technicians can apply the techniques in a wide variety of environments, from confined-space entry to concrete structures to steel installations such as derricks and platforms. Custom rope-access solutions can be designed to accommodate various applications quickly and in a cost effective manner.

Rope access is efficient. Systems are installed and dismantled rapidly and often require fewer personnel than traditional access methods such as aerial lifts, or scaffolding systems. Rapid deployment limits disruption to facility operations by minimizing downtime, often mitigating time consuming situations quickly.
​
Rope Access Applications include;
​
Advanced NDE

Structural inspections

​Non-Destructive Examination (NDE)

API/AWS Inspection Services

Installing sensors

Instrument installation

Installing rigging

Insulation repair

Sealant installation and surface preparation

Painting

Photography and Thermography

CUI

Retro PMI
​
​